One of my favorite professors, Bob Herman, is retiring. He wrote to ask for recycling ideas for his personal library. I made some suggestions, but promised him I'd scout around for other ideas. I owe Bob bigtime! In the course of snoogling around (snoop + google), I discovered www.PaperBackSwap.com.
Recycling has never been so nice. This website allows members to list any books they're willing to give away, and in exchange for giving away books to other members, get any available book on the site. For free. Honest. And there appear to be millions, in every category. You can even select up to three topic categories with an amazing amount of specificity, e.g. Home & Garden + Gardening & Horticulture + Technique + Organic + Desert Southwest.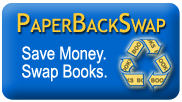 If recycling books this way isn't green enough, they've got some other green angles. PaperBackSwap.com has a mechanism that lets you print a pre-addressed wrapper with the postage already on it. Using book weight information from a book's ISBN number, PaperBackSwap.com calculates the postage. That saves paper for labels and stamps. It also saves the drive to the post office. Using their authorized wrapper gets you around the annoying new postal service security rules requiring that you transport packages over 13 oz to a post office for mailing. Yes, there's a small fee - e.g. 43 cents (plus the $2.43 postage) to send Geraldine Brook's
"People of the Book"
to California.
If it bothers you that PaperBackSwap.com is making a service fee off your transaction, decide for yourself whether it's in your best interest to pay the fee or make the trip. PaperBackSwap.com has a travel cost calculator. Simply enter the local gas price plus the number of miles to the post office. For me, it's an 82 cent trip, so 43 cents is a still a bargain. And of course, there's a net benefit to your carbon footprint. The icon above-left, by the way, is a link to the site.
So, thanks Bob, for sending me off on a google-chase. And I promise you will never find your wonderful text,
" The
Jossey-Bass Handbook for Nonprofit Leadership and Management,"
listed for swap on my PaperBackSwap.com account!